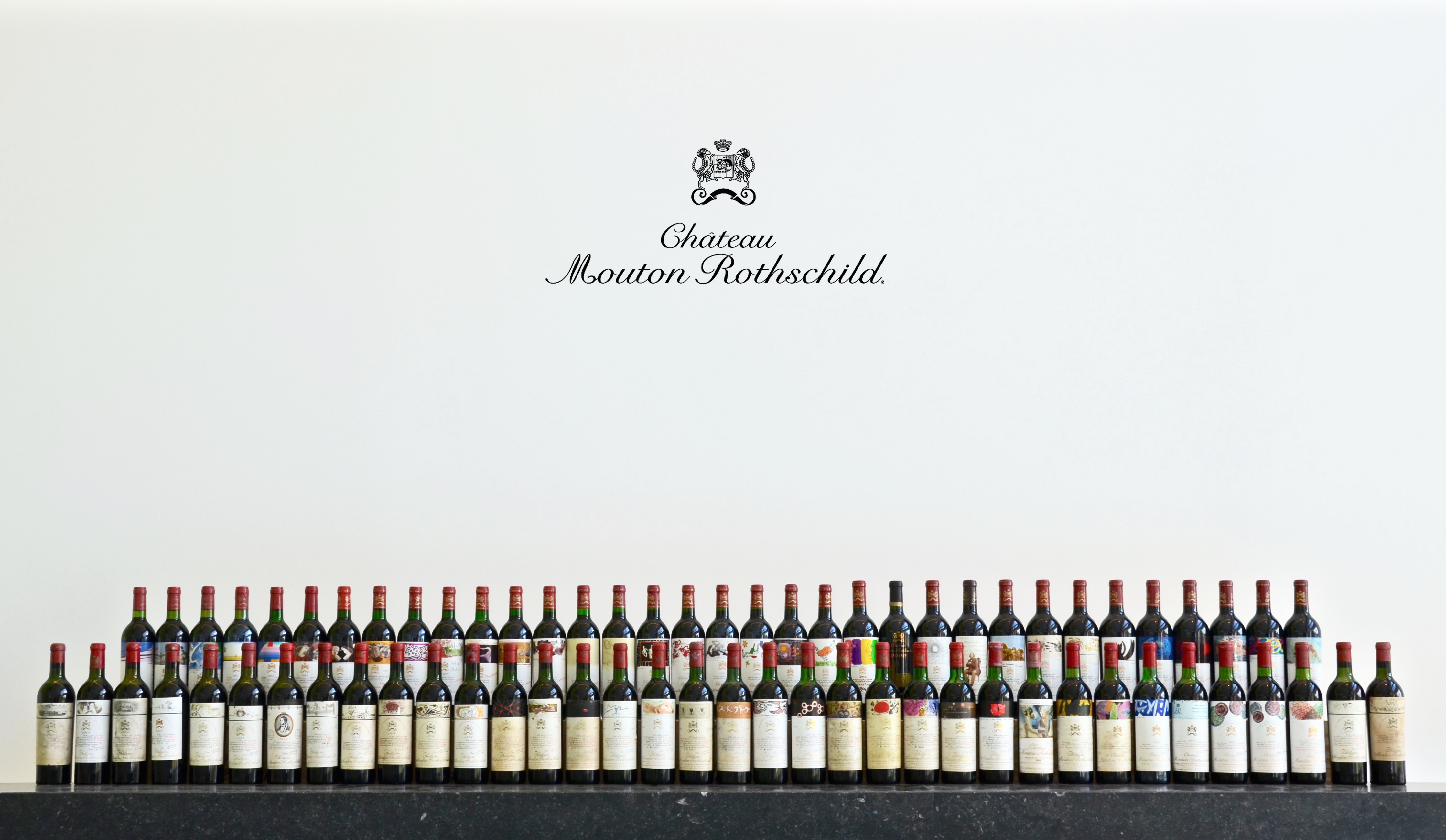 First I am, Second I used to be, Mouton doesn't change
This sentence perfectly sums up the story of this estate and the place it holds today alongside Bordeaux best wines.
Mouton is the only estate to have been reclassified in 1855, benefitting from an outstanding 'terroir' blending gravel, stones and pebbles over its 180 acres in Pauillac.
The Mouton Rothschild Estate has moved through the decades gracefully since its original acquisition in 1853 by Baron Nathanaël de ROTHSCHILD.  Important changes to production were however made in 1924, when his successor and great grandson, Baron Philippe de ROTHSCHILD, transferred all bottling operations in-house and on-site. That same year, the Baron also collaborated with Jean CARLU on a first attempt at illustrating the label for that year's vintage.
The Baron, a trailblazer and art enthusiast, decided to commission artists to create a new label illustration for each vintage from 1945 onwards.
In 1988, the Baron was succeeded by his daughter, Baroness Philippine de ROTHSCHILD, who  continued her father's work, overseeing all modernization of the estate until 2014 –her last vintage
The renowned artist David HOCKNEY, a personal friend of the Baronness, paid homage to her with a special label he personally designed to commemorate  the Mouton Rothchild 2014 vintage.
Today, her children,  Camille de Sereys de ROTHSCHILD, Philippe de Sereys de ROTHSCHILD (the vineyard's President) and Julien de Beaumarchais de ROTHSCHILD  are co-owners, continuing the family tradition .
At Comptoir des Vignobles, our Mouton Rothschild Collection starts with the outstanding 1945 vintage, carrying a  'V' for Victory on the label. We then hold every vintage from 1945 until 2014, each bottle highlighting the works of famous painters such as Miro, Braque, Chagall, Picasso, Warhol, Bacon, Dali, Koons.
Our Mouton Rothschild Collections
Full Collection from 1945 to 2014 (all 72 bottles) including the 2 versions of the 1978 (RIOPELLE) and the 1993 (BALTHUS).
Full Collection  from 1948 to 2007 (all 62 bottles) including the 2 versions of the 1978 (RIOPELLE) and the 1993 (BALTHUS)
Full Collection from 1979 to 2008 (all 30 bottles) including the 1993 (BALTHUS).
Interesting Facts
The spectacular 'Grand Chai' (Great Barrel Hall) at Mouton was created by Charles Siclis and is 100 metres long
Creation of the Grand Chai of 100 metre-long by Charles Siclis
Impulsed by the Baronness Pauline, a Wine Museum is inaugurated in 1962 by André Malraux
Created in a former barrel hall on the Estate, the 'Museum of Wine in Art' was an initiative of Baronness Pauline (wife of Baron Philippe de Rothschild) and was inaugurated by André Malraux in 1962.
Source: http://www.telegraph.co.uk/sponsored/foodanddrink/bordeaux-food-wine-culture/11193401/bordeauxs-best-museums.html
Wine critic Robert Parker ranks Mouton as one of the best Bordeaux wines.
1945 : 100 points
1947 : 98 points
1949 : 94 points
1953 : 95 points
1955 : 97 points
1959 : 100 points
1961 : 98 points
1982 :100 points
1986 :100 points
1995 : 95 points
2000 : 96+ points
2005 : 97 points
2009 : 99 points
2010 : 97 + points
2015 : 97-99 points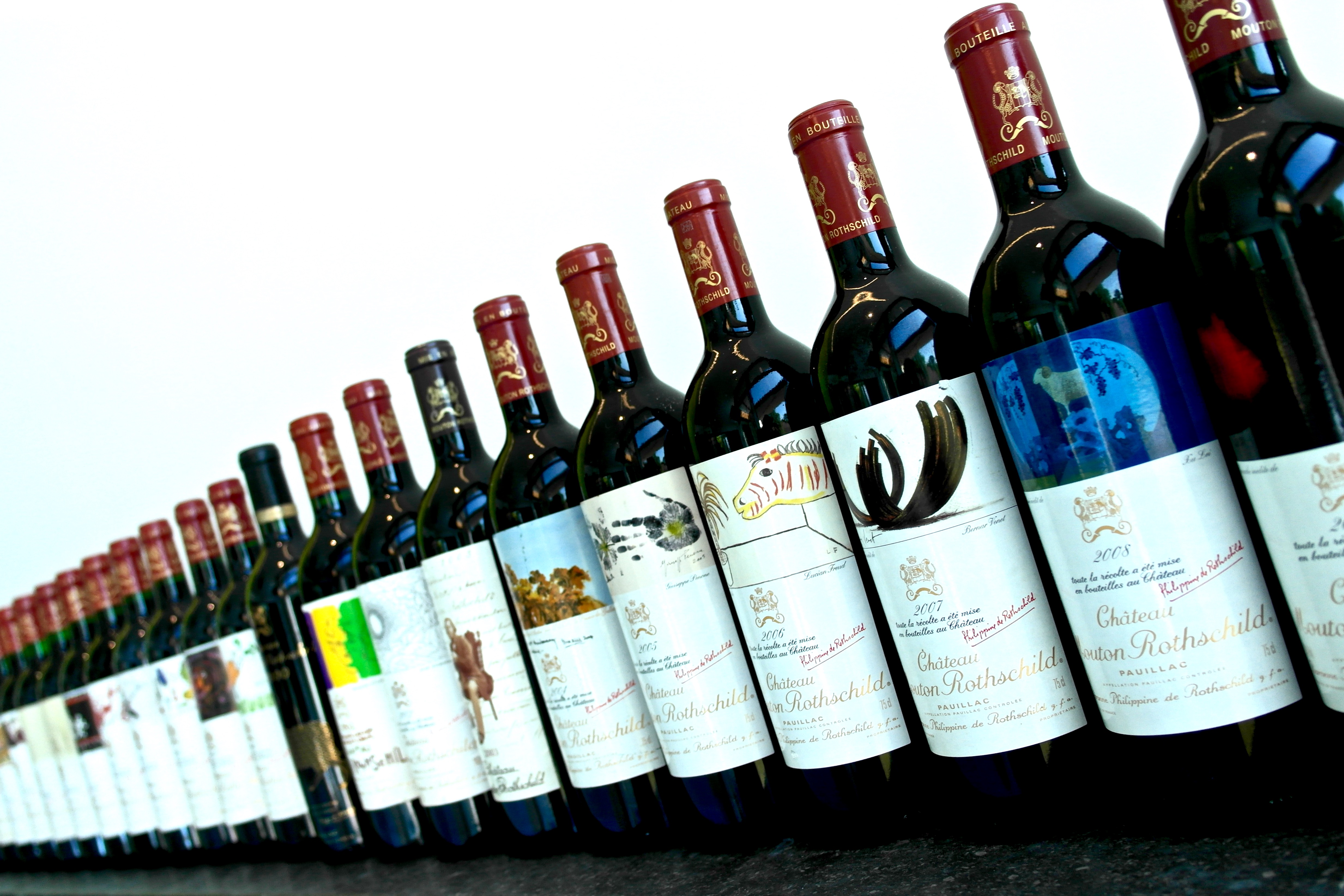 Les années 2000