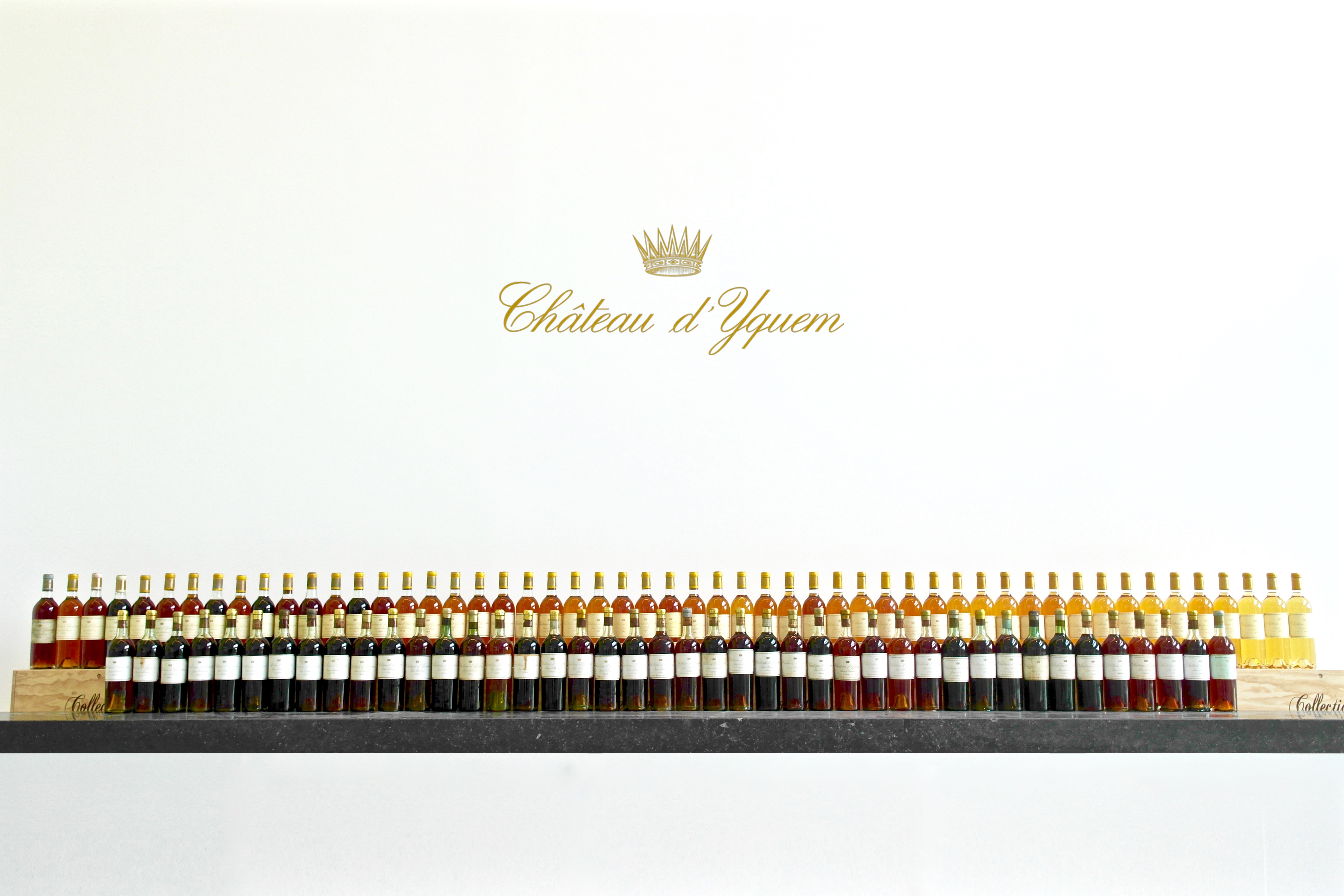 A Premier Cru Supérieur, Yquem is pure elegance !
The legendary Yquem estate has produced liquid gold for more than 3 centuries.
Each bottle of this timeless, precious elixir improves with age like no other wine in the world.
Yquem winemaker and CEO Pierre Lurton explains that a 'terroir' needs to be truly understood when it's inherited: you can never know everything about this kind of wine; the most you can accomplish is to keep pushing the boundaries of your wine making in the pursuit of quality , given our exceptional ecosystem. It is truly rare to find places on this earth that so perfectly unite the 'terroir' and the climate. (Dico du Vin).
Chateau Yquem perfectly blends the strength and finesse of its remarkable 'terroir'and was classified as a Premier Cru Classé Supérieur (Superior First Growth) in 1855.
The Yquem Château and cellars are located on the highest hill in Sauternes, at 75 metres of altitude.
The 206 acre vineyard enjoys ideal growing conditions.  Its soils, composed of gravel and pebbles, retain the heat whilst also benefitting from natural sources of water regulation, balanced by the drainage system that has been present since the end of the 19th Century.
The vineyard is planted with 75% Semillon and 25% Sauvignon grapes – the perfect alchemy, reflecting the local viticulture.
Chateau d'Yquem was acquired by Jacques Sauvage in 1593. Local archives from the Estate and the region already mention its late harvesting production technique.
In 1785, the Estate passed to the Lur Saluces family when Françoise Joséphine de Sauvage d'Yquem married the Count Louis Amédéee de Lur Saluces who then died 3 years later.
Françoise Joséphine continued to develop the business, by adding a cellar in 1826, and further building the reputation of her wine which was already being produced by 'tries successives' (multiple passes) during harvest.
The Lur Saluces family, and more specifically, Count Alexandre, continued the ancestral traditions of Chateau d'Yquem for more than 35 years, despite a period in the 1970s that challenged them at both an economic and production level.
In 1999, Chateau d'Yquem was acquired by the LVMH group, led by Bernard ARNAULT, marking the start of the next chapter in the story of this unique estate.
Interesting Facts :
It takes an entire vine to produce a single glass of  Yquem wine.
Yields are extremely low, ranging from only 7 to 9 hectoliters per hectare depending on the vintage.
The best vintages
"For me, it's all about the concept of risk-taking, pushing the boundaries as far as possible. For example, 1967 was a year where the Chateau took every possible risk to create a legendary vintage. It's this boldness that sets us apart". Pierre Lurton, President, Chateau d'Yquem
Our Collections !
Composition from 1900 to 2011 integrating 103 bottles
Composition from 1945 to 2008 integrating 58 bottles
Notes Robert Parker
1811 : 100 points
1847 : 100 points
1869 : 99 points
1937 : 96 points
1945 : 100 points
1971 : 97 points
1975 : 98 points
1976: 96 points
1983 : 96 points
1988 : 96 points
1989 : 97 points
1990 : 99 points
1997 : 96 points
2001 : 100 points
2005 : 97 points
2009 : 100 points
2015 : 98-100 points