NosCollections
A collection always tells a story of both the 'cru' (wine estate or 'Chateau') and its associated vintages. Collections encompass the most sought after vintages and require continuous nurturing to ensure only the best are kept.
A collection always begins at a particular moment in time.  For example, at the start of a millennium (e.g. 1900, 2000) or decade or even on a particular buyers or collectors birthday or on the year a company was established.
The precious bottles in each of our Collections are stored in a very unique way – in a 12th Century monolithic cave.   Here, they are kept in custom-made containers, specially designed to preserve each bottle and accommodate the changing bottle shapes over decades..
One by one, each bottle is unpacked in its original state from the wineries – still covered in its original grime and dust and still showing signs of wear and mildew .  Each bottle is then cleaned and carefully wrapped and stored to preserve its integrity. Sometimes bottles are stored for up to ten years – the time needed  to build a complete Collection.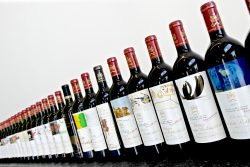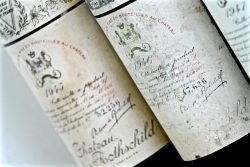 At Comptoir des Vignobles, we hold an exceptional collection of wine from the Mouton-Rothschild Estate dating from 1945 to 2014, reflecting the success of the family and that of its forefather Baron Philippe de ROTHSCHILD

Anecdotes : The name Mouton comes from the gascon word, 'mothon', meaning a small mound or hill.

Millésimes : Every vintage has been bottled since 1945: a vintage for each of the 69 years, totaling 71 bottles (including the 2 special labelled versions of the 1978 vintage - the small rings and the large rings labels from the Artist Alexandre Riopelle) and the 1993 vintage (including the Balthus label design as well as the plain, censored version for the US market).

Composition : Cabernet Sauvignon 81%, Merlot 16%, Cabernet Franc 3% (2014)

Petrus is one of the finest examples of an exceptional 'terroir' that has been expertly managed by its owners - the Moueix family.

Anecdotes : Petrus shares its name with its location – the hill of Petrus.

Millésimes : Collection includes every vintage from 1945 to 2015 (with the exception of the 1956, 1965, and 1991 vintages which were never produced). The whole collection was bottled exclusively by the Estate (rather than by wine merchants)

Composition : Merlot 100%

Golden grapes

Anecdotes : After centuries of family ownership since 1593, from the Sauvage to the Lur Saluces families, Chateau d'Yquem expanded t

Millésimes : Yquem is synonymous with excellence! To retain its status as a 1er Cru Supérieur (Superior first growth), Yquem discarded its production of the 1910,1915,1930,1951,1952,1964,1972,1974,1992 and 2012 harvests.

Composition : Sémillon : 75% Sauvignon : 25% (2015)